A Taste of Ca' Momi | 4-pack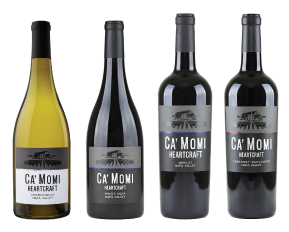 Ca' Momi crafts Italian authenticity and passion into wines born in the heart of the Napa Valley. Wines made with humility & integrity, made to sip, savor & enjoy!
Our Napa Valley A Taste of Ca' Momi 4-Pack Includes:
Napa Valley | Chardonnay | 2018
Napa Valley | Pinot Noir | 2016
Napa Valley | Merlot | 2018
Napa Valley | Cabernet Sauvignon | 2018
We invite you to join us for a special virtual tasting with Ca' Momi Winemaker Dario De Conti as he tastes through his hand-picked selection of wines and answers your questions!…Sip, savor and swirl as we discuss our Heartcrafted wines and everything Ca' Momi.
Many in our region have been impacted by the recent fires which are still affecting our wine country communities. To support our valley and the people who call this place home, Ca' Momi will donate 50% of every A Taste of Ca' Momi Pack purchased October 3 - 5, 2020 to support disaster relief efforts, with 100% of the proceeds going to those impacted. Please join us in giving a little back to those who have already lost so much. For the remainder of October, 20% of every pack will also be donated toward disaster relief efforts.
We look forward to tasting with you and inviting you into our Ca' Momi home!
Date and Time: Saturday, October 17, 2020 at 2 PM PST
Click here for more details.
---