Marley | Rainbow Country | White | 2017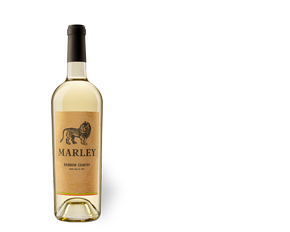 The most delicious things in life are made with heart and shared openly — friendships and food especially. Marley Wines naturally pair with good times between family and friends, blending our respect for the earth and one another in unity.
It is with this spirit that two families, those of Marley and Ca' Momi, come together to craft the first-ever release of Marley Rainbow Country white wine. Synergy is at the core of our partnership, illustrated through our shared values such as keeping family first, preserving the culture, community and environment that we enjoy, a passion for storytelling through music, wine, food, and art, and most importantly, dedication to the quality and experience our collective audiences enjoy.
From Ca' Momi's heartcrafted™ winemaking team comes a limited-production of premium Napa Valley Chardonnay & Sauvignon Blanc, thoughtfully blended to the Marley Family's exacting standard. Rainbow Country creates a reminiscence of island tropicality and California acidity; invigorating both the soul and palate.
While supplies last, get ONE CENT SHIPPING on case orders!